Oil prices rose Tuesday, lifted by chilly weather across the Midwest and Northeast United States that is boosting heating fuel demand.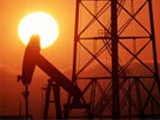 Traders expect that the recent cold temperatures will be reflected in heating oil stockpiles Wednesday, when the U.S. inventory report is published. The market is predicting a large drop in heating oil stocks, and increases in crude oil and gasoline.
But crude prices stayed under the $60-a-barrel mark, as the cold weather and dropping heating oil inventories have been mostly priced into the market already, analysts said.
"If you haven't bought the market already, you've pretty much missed the whole move," said Michael Guido, director of commodity strategy in New York for bank Societe Generale. "It can't get any colder - all the risk is to the downside. Any kind of breakup in the cold we're getting, and it could easily drop a dollar."
Light, sweet crude for March delivery rose 16 cents to $58.90 a barrel in early afternoon trading on the New York Mercantile Exchange, after rising as high as $59.99 a barrel in electronic trading. The contract on Monday slipped 28 cents to settle at $58.74 a barrel.
Oil hasn't closed above $59 a barrel this year.
A bone-chilling cold wave blasted across the northern Plains of the United States to the Northeast, contributing to heavy snowfall Monday. Colder-than-normal temperatures are expected to linger in the Northeast and Midwest through Feb. 18.
Citing the U.S. National Weather Service, Vienna's PVM Oil Associates said that U.S. heating oil demand will be around 20 percent above normal next week, adding: "Cold weather is likely to further support prices in the coming days."
On Tuesday, Brent crude for March delivery rose 15 cents to $58.25 a barrel on the ICE Futures exchange in London.
In Nymex trading, heating oil futures rose less than a cent to $1.6830 a gallon; gasoline prices rose less than a cent to $1.5660 a gallon; and natural gas prices slipped less than a cent to $7.630 per 1,000 cubic feet.
Nymex crude oil prices had fallen as low as $49.90 a barrel last month after unseasonably warm weather. But the recent cold spell and ensuing strong demand for heating fuels is expected to result in another big drop in U.S. distillate stocks in weekly U.S. petroleum inventories data due Wednesday, according to a Dow Jones Newswires survey of energy analysts.
The report by the Energy Information Administration, the U.S. Energy Department's statistical arm, is expected to show a decline of 2.9 million barrels of distillate stocks, on average.
Crude stocks were forecast to rise by 950,000 barrels on average, the survey showed.
Retail gasoline prices started climbing higher last week, as crude oil prices jumped back to to the high $50s. The average U.S. price for a gallon of regular was $2.181 on Tuesday, up from $2.177 on Monday, according to AAA.
Politicals tensions in oil producing nations including Nigeria and Iran have been keeping prices afloat lately, but a lack of new developments abroad are causing traders to focus more on weather in the United States, the world's biggest energy consumer.
"There's nothing new on geopolitical front right now," Guido said. "There's nothing driving prices right now except weather." The Associated Press
/www.azcentral.com/