Azercell Telecom JV continues its work on expanding field of its coverage and to provide high-quality telecommunication services in the country.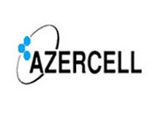 In January company installed 16 new stations in Baku, Azercell's press service told APA.
Totally 328 stations have been installed in Azerbaijan during 2006.
Azercell Telecom has 2 reserve subscription bases, 13 systems to control base stations, 16 centers of mobile commutation and over 1096 base radio stations.