The first Armenian section of a key gas pipeline running from neighboring Iran will be officially inaugurated next month or in April at the latest, Energy Minister Armen Movsisian said on Monday.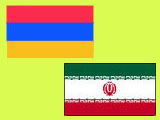 Movsisian told RFE/RL that he will fly to Tehran later this week to discuss with top Iranian officials "the opening of the gas pipeline and other issues of mutual interest." "We will decide the day when [the pipeline] will be opened," he said, adding that that will happen "in March or April."
Work on the 40-kilometer section, financed and carried out by the Iranian side, was supposed to be finished by the end of December. Its official launch was postponed for reasons that remain unclear. Armenian officials have blamed bad weather and unspecified "technical problems" for the delay, while their Iranian counterparts insist that the facility has essentially been completed and can start pumping Iranian gas "at any moment."
Media speculation has linked the delay with the Armenian government's apparent plans to incorporate the pipeline into ARG national gas distribution network, 58 percent of which is owned by Russia's state-run Gazprom monopoly. Critics say the facility would therefore fail to serve its main purpose: to reduce Armenia's energy dependence on Russia.
Movsisian claimed that the government has not yet decided who will own it. He said the decision will be taken only after the first pipeline section comes on stream and undergoes technical tests that will take "between three and six months."
But addressing the Armenian parliament later in the day, Movsisian implied that the pipeline's effective transfer under Russian control is a forgone conclusion and denied that this would reflect negatively on Armenia's energy security. He assured lawmakers that "in one or two years" Armenian gas imports from Iran will equal those from Russia even if ARG becomes the owner of the newly built pipeline. RFE/RL