The fourth meeting of Pakistan-Azerbaijan intergovernmental joint commission will be held in Islamabad on Tuesday.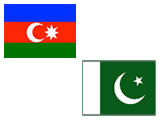 From the Azerbaijani side First Deputy Prime Minister Yagub Eyyubov, Education Minister Misir Mardanov, Minister of Military Industry Yaver Jamalov, Communication and Information Technologies Minister Ali Abbasov will participate in the work of the commission, Counsellor of Azerbaijani embassy in Pakistan Sabir Rzayev told the APA.
Technical discussions on the activity of intergovernmental commission are being held in the capital of Pakistan at present.
Azerbaijani ministers will leave for Pakistan tomorrow and the First Deputy Prime Minister Yagub Eyyubov a day later
The protocol of the meeting will be signed on the second day of the event. Economic sphere, issues on tourism, military industry, communication and education will be discussed at the meeting.
Sabir Rzayev said though several agreements on information technologies and transportation were expected to be signed in the meeting, it was delayed until the next meeting.
The diplomat said that economic cooperation between Azerbaijan and Pakistan are at the highest pitch, but these relations are not reflected in the trade turnover.
Noting that the trade turnover between the two countries is about $2million Sabir Rzayev said there is strong potential for increasing this figure.
"It is possible to expand the relations in the sphere of agricultural products, leather products, pharmaceutics and medical equipment. According to the protocol of the third meeting of the commission, branches of each or several Azerbaijani companies were to be opened in Pakistan. But unfortunately, we received no appeals yet," he said.
The meeting of Azerbaijan-Pakistan intergovernmental commission is held every two years in Islamabad and Baku. The most recent meeting was held in Baku in 2004.