"Bilateral economic relations between Azerbaijan and the United States rose to partnership from cooperation in 2006.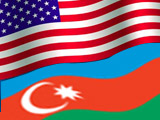 "As a result of this, the working group on Azerbaijan-US economic cooperation is substituted by Economic Partnership Commission. The first meeting of the commission will be held on February 7 this year in Baku," said Azeri Ambassador to the US Yashar Aliyev.
Ambassador said three documents, including the project of Cooperation Memorandum on establishing Economic Partnership Commission between Azerbaijani and the US governments, Memorandum of Understanding on dialogue of energy security in the Caspian region between Azerbaijani and the US governments and Joint Communique of Economic Partnership Commission, for adoption in the framework of the meeting are being discussed at present, APA reports.
Aliyev also added that the US has established such commissions with 10-15 states for continuation of economic relations. "This fact also shows the importance of this commission for Azerbaijan," Ambassador said.