Turkish Prime Minister Recep Tayyip Erdogan will leave for Georgia on Feb. 7 to attend the signing ceremony for the Baku-Tbilisi-Kars (BTK) railway project.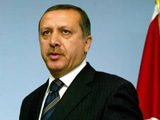 Construction of the rail project linking the eastern Turkish town of Kars and the Azerbaijani capital Baku via Georgian capital Tbilisi is expected to start in June and will last for two years, Anatolia news agency reported on Saturday.
Azerbaijan President Ilham Aliyev and Georgian President Mikhail Saakashvili will also be in attendance at the signing ceremony, the report said.
Turkish Minister of Transport Binali Yildirim has said that Turkey would be responsible for the construction of 76-km branch that leads to the Georgian border, while Georgia will undertake the construction of 25 km of track within its borders.
Turkey's portion of the total cost of the railway project is expected to reach 250 million U.S. dollars when completed.
Azerbaijan will lend 200 million dollars to Georgia to finance construction of its portion of a railway that will link Azerbaijan with Turkey, according to an agreement signed in Tbilisi on Jan. 13. Xinhua