Georgia is reshaping its energy balance to reduce gas consumption as much as possible by closing gas-fuelled power plants.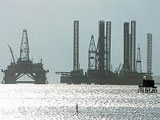 It only generates electricity through hydroelectric plants and power block 9. Ajaria is completely supplied with Turkish gas under an exchange deal. Enquri hydroelectric power plant is producing electricity at full capacity.
Georgia is receiving natural gas from Russia and Azerbaijan. However, Shah Deniz gas is not flowing to Georgia at present. Energy Minister, Nika Gilauri said Shah Denis gas is expected to reach Georgia in two weeks.
"We did the best to minimize gas consumption in the country. Also, we try to increase the quota of low-priced gas in the energy balance," he underscored.
He said Georgia will be receiving natural gas in normal regime from April, including 1mln cu m of Azeri and Shah Deniz gas a day, 1mln cu m from Russian gas transit to Armenia, 1.5mln cu m from Turkey's quota in Shah Deniz project, and this amount will cover the needs of population and industry.
BP Office in Georgia told the APA that the time of Shah Deniz gas imports resumption is indefinite. The repair works are carried out to prevent technical failure in future, preventive works are underway in gas and condensate fields. APA