Azerbaijan State Statistical Committee released macroeconomic performance indicators, saying the country's gross domestic product grew to AZN 17,735,800 last year.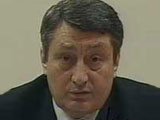 The Committee Chairman, Arif Valiyev, told a press conference that industry formed 58.3% in GDP, construction 7.5%, transportation 5.3%, agriculture, hunting and foresting 7.1%, retail & wholesale sales and repair works 5.6%, communications 1.8%, other services and social sector 7.9%.
The GDP expansion in non-oil sector leaped 12.1% to AZN 7,034,100, industry production jumped 36.6% to AZN 14,448,400, mail and communications services rose 24% to AZN 571,800,000.
People's incomes went up 23.4$ to AZN 9,949,800, per capital nominal income climbed 22% to AZN 1,189,900, average monthly wage increased 19.8% to AZN 141.3. APA