European Bank for Reconstruction and Development intends to join the founders of MilliCard Procesing Center.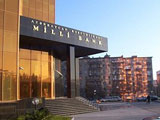 The Executive Director of the Center, Jalal Orujov, said that the details are being discussed with the Bank.
The authorized capital of the MilliCard is AZN 4m. At present the founders of the Center are Bank Standard, Technikabank, Rabitabank, UniBank, Azerdemiryolbank, AtaBank, Bank of Baku, AzerTurkBank, Debut Bank, Bank Respublika, Amrahbank, CI Bank, Khalg Bank, Turanbank, Azerbaijan Micro Finance Bank, Parabank, Kredobank and Zaminbank.