A delegation from Georgia has visited Baku to have talks on the financing of Baku-Tbilisi-Akhalkalaki-Kars railway project.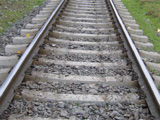 Deputy minister of transportation, Musa Panahov, told the APA that the delegation will discuss allocation of a loan to the project with the International Bank of Azerbaijan. An agreement on a $220m-loan to Georgia is expected to be concluded during the visit.
Panahov said the framework agreement was discussed and agreed on with Turkish delegation in Baku last week.
Azerbaijan is going to lend Georgia a $220m loan for 25 years at a 1% interest rate annually. The project costs $420m.