Kazakhstan outlined tougher laws for investors in its growing oil sector on Thursday and forecast that 2007 oil output would stay at last year's 1.35 million barrels per day level while new capacity is developed.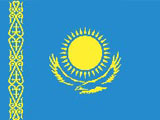 The Central Asian state plans to join the world's top 10 oil producers by 2015, with new fields in the Caspian Sea. It has attracted billions of dollars of foreign investment but is now demanding a greater say on who owns what in the sector.
Energy and Natural Resources Minister Baktykozha Izmukhambetov said 2007 crude oil and gas condensate output would remain stable compared to last year at 65 million tonnes.
He also gave the first public details of new legislation, signed into law this week by President Nursultan Nazarbayev, which will prevent foreign oil investors from selling stakes in Kazakh assets to third parties for two years after purchase.
"Given Kazakhstan's growing role as a source of energy resources, the state is faced with the urgent task of guaranteeing national security in how it divides up hydrocarbon resources, which requires state politics to play a role in the subsoil sector," he told a ministerial meeting.
Kazakhstan has gradually tightened laws governing sales of stakes in its oilfields and made clear that it expects to be consulted about any deal in the sector.
The latest legislation, which has not yet been published, was in part a reaction to the $1.9 billion sale of the Karazhanbas oilfield by Canada-based Nations Energy to China's CITIC group, the minister said.
"The recent sale of shares in a company that held rights to oil operations on the Karazhanbas oilfield showed that, considering the geopolitical situation, the legislative mechanism of guaranteeing the state's interests requires perfecting," Izmukhambetov said.
"I also want to say that all contracts must work in favour of the people of Kazakhstan," he added.
Speaking to reporters about the crude oil production forecast, Izmukhambetov said there would be a significant increase in production from 2008 when the Chevron-led Tengizchevroil (TCO) consortium raises output.
TCO expects work on its $3 billion "second generation" infrastructure upgrade and gas re-injection projects to be completed by the end of 2007.
The two projects are expected eventually to nearly double the field's annual 13-14 million tonnes of crude oil output.
Further output hikes will come when the Kashagan oilfield in the Caspian Sea, the world's biggest oil discovery in 30 years, comes on stream. The complex ENI-led project has been beset by delays and is now scheduled to start producing in 2009. (One tonne of Kazakh crude = 7.6 barrels) Reuters