"Government and the National Bank don't plan to reconsider the forecasts for inflation rate in 2007," Chairman of the Management Board of the Bank Elman Rustamov said.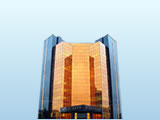 He insisted that the current outlook is stable and there is no need for any change.
"The National Bank's predictions are effective. We plan to take further measures through cash-credit, as well as budget and tax policy in order to keep one-digit inflation," he underscored, APA reports.