As of January 1, the assets of Khalg Bank doubled 4.3 times to AZN 75,146,400.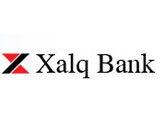 Bank Office in Baku told the APA that its credit portfolio increased 6.4 times to AZN 61,427,800, deposit portfolio rose 7.7 times to 63,122,400. The term deposits made by people jumped 12 times to AZN 39,219,300.
Khalg Bank increased its aggregate capital 58% to AZN 9,007,000.
During 2006 the Bank's incomes and expenditures amounted to AZN 5,467,770 and 6,377,500 respectively. Its deficit was AZN 909,730.
Khalg Bank has to date issued over 3,000 local cards, installed 11 ATMs and 7 POS machines. The Bank has branches in Sumgait and Zagatala and intends to open new braches in Mingechevir and Neftchala.