A number of representatives from France's Lafarge, the largest cement manufacturer of the world, will visit Azerbaijan.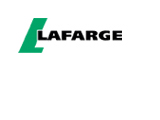 Economic Development Ministry press service told the APA that the company intends to build a cement plant in Azerbaijan.
This issue was discussed at the 4th meeting of France-Azerbaijan intergovernmental commission on economic cooperation held in Paris on Jan. 9.
Construction of a cement plant at annual capacity of 1.5m tons require US $150m to $200m.