"Carrying capacity of Kars-Akhalkalaki-Tbilisi-Baku railway will be 15m tonnes a year," saif Director General of Georgian Railway Ltd. Irakli Ezugbaya.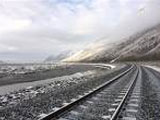 He told the APA Georgian bureau that Marabda-Akhalkalaki part of the railway needs rehabilitation for implementing the project.
"This part should be rehabilitated to increase carrying capacity. 23km-Akhalkalaki-Kartsakhi (Turkish border) part to be reconstructed will completely meet international standards," he said.
Georgian Railway Ltd. also intends to construct machine-shop for changing parts of wagons in Akhalkalaki.
The Director general added that the construction of the new railway will be begin at the end of the second term or beginning of the third term this year and the rehabilitation will begin earlier.
"Loads sent from Kazakhstan and China to Europe, are also expected to be transported," he said.