The State Oil Company of Azerbaijan (SOCAR) has stopped gasoline exports, the Company told the APA.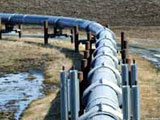 The reason for a sudden stop is that the company has to deliver more straight-run fuel oil to the power stations and automobile gasoline production will trim down.
The SOCAR has signed two agreements for the first quarter of 2007. As per the agreement with the EST Energy, the Company will export 500,000 tons of gasoline, and by the second agreement, it will export 10,000-15,000 tons of gasoline to the SOCAR Energy Georgia a day.