Baku Metro is not going to request the Tariff Council to increase the fares.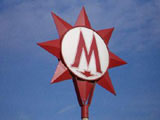 The Baku Metro Chief Tagi Ahmadov told the APA they have not request and will not.
"We provide service to people at the price set by the Tariff Council," he said.
He complained that they had raised the issue before the Government previously, but rejected.
It is estimated that the cost price of carrying per passenger costs the Baku Metro 35 kopecks, while the fare is 5 kopecks.