"Consumers' concern over the variable selling prices for liquefied gas on the domestic market is baseless as the Cabinet passed a decision making the prices up to sellers," a governmet source told the APA.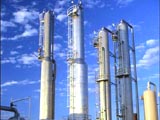 The Tariff Council's decision on the fixed wholesale price of liquefied gas effective since January 8 left the retail selling price of the gas free (uncontrolled) and the sellers free to set selling prices on the domestic market.
The Council told the APA that the wholesale price of liquefied gas per ton was set at AZN 230, compared to the previous AZN 178.