A road bridge in the 20 Yanvar circle and a tunnel in Shamakhinka will be opened in mid March.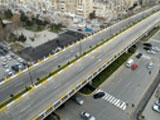 The Transportation Ministry told the APA that a pedestrian tunnel in Vurgun Street (in front of Teze Bazar) will also be opened.
The 20 Yanvar road bridge spent AZN 19.4m and the tunnel AZN14.8m.