Rise of charges for fuel will not influence the prices of tickets of Turkish Airlines Company.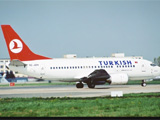 "We do not want to increase the prices using this opportunity. By this way we could cast shadow to Azerbaijani-Turkey friendship," Turkish Airline Company chief for Azerbaijan Nejdet Shark told the APA.
He noted that the price of the ticket is $380.
"The cheapest ticket costs $269. After adding $110 airport tax on this number, the price of the ticket reaches to $380. The taxes are increased either by Turkish government, or by Azerbaijani government. We have not increased our prices for 16 years," he said.
He did not rule out rise of taxes and said that the prices of the tickets are possible to rise.