Azerbaijan starts gas supplies to Georgia on Wednesday and will dispatch daily about 1 million cubic meters of natural gas for US$ 120 per 1,000 cubic meters, a spokesperson for Georgian Energy Ministry told.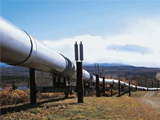 Under an agreement reached late in December, "gas deliveries will be effective during 90 days and will be extended in case of necessity," he said.
Besides, when the Baku-Tbilisi-Erzurum gas pipeline becomes operational, Georgia will start receiving its gas quota from Shah-Deniz deposit presumably from February. Georgia has its own quota of 250million cubic meters of gas for US$ 64 per 1,000 cubic meters plus Turkey announced it would cede to Georgia 800 million cubic meters from its 3-billion-cubicmeter quota. Price of the deal has not been revealed.
In December, Russia's Gazprom signed contracts with three Georgian companies to supply them with gas in 2007 in the amount of 1.1 billion cubic meters for US$ 235 per 1,000 cubic meters.
The annual gas demand of Georgia is about 2 billion cubic meters.
According to BP Azerbaijan, Shah Deniz will yield 300 million cubic meters of gas this year, and another 5-6 billion in 2007. The State Oil Company of the Azerbaijani Republic forecasted this year's produce at 100 million tonnes.
The cost of the project, including the Baku-Tbilisi-Erzurum pipeline with the annual capacity of 20 billion cubic meters, is US$4.1 billion.
The maximum annual production will make 9 billion cubic meters at first.
The initial reserves of Shah Deniz are estimated at 148 billion cubic meters of gas and 34 million tonnes of condensate. Itar-Tass