Azerbaijan and Russia have agreed on amounts and prices of mutual electric energy deliveries in 2007.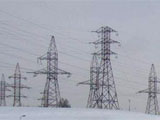 The press service of Azenergo company said on Tuesday that conditions of deliveries would be published in Baku on January 15 after a respective contract was signed.
Azenergo vice president Marlen Askerov said that "Azerbaijan will receive at peak hours of the day 200-250 megawatts from the Russian energy system for covering its own deficit."
"A price of imported electric energy will increase, but insignificantly as compared to the last year," Askerov said, adding that the "cost of electric energy that will be returned to Russia in night hours will increase too."
Azerbaijan is to return to Russia 0.4 billion kilowatts-hour at a price of 3.6 cents per kilowatt in 2007.
In 2006, Azerbaijan imported from Russia 1.3 billion kilowatts-hour of electric energy for 1.6 cents per kilowatt-hour and returned 0.3 billion kilowatts-hour.
The Russian national electricity utility RAO UES warned Azerbaijan in December about its plan to curtail annual electricity deliveries by five times, from 300 to 60 megawatts, and to increase the price of one kilowatt-hours by 13 percent, to 4.1 cents. Itar-Tass