ITECA Caspian LTD, the exclusive partner of ITE Group Plc - the leading organizer of the international trade exhibitions and conferences in the South Caucasus will open 12th Azerbaijan International Construction Exhibition "BakuBuild 2006" and 1st International Real Estate Exhibition "AzRealty-2006", October 11- 14 in Heydar Aliyev Sport and Exhibition Complex.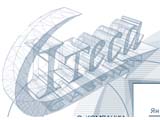 The event will bring together over 200 companies from 20 countries, including Germany, France, Poland, Russia, Austria, Turkey and others. The main sectors of the exhibition are sanitaryware, interiors, windows and doors, heat and vent, lighting etc.
AzRealty-2006 participants will familiarize themselves with the different sections of immovable property in Azerbaijan, insurance, building and investments, primary and secondary markets and mortgage banks.
The sponsors of the exhibitions are Ministry of the Economic Development, Ministry of Emergencies, Executive Power of Baku city, Chamber of Commerce and Industry, Azerbaijan Export and Investment Promotion Foundation (AZPROMO) TUSIAB, Azerbaijan Architects Union and National Confederation of Entrepreneurs ( Employers) Organizations. AzerTAg