Azerbaijani Deputy Foreign Minister Vagif Sadikhov held a press conference on the 33rd session of the Islamic Conference of Foreign Ministers which took place in the Azerbaijani capital of Baku from June 19 to 21, 2006.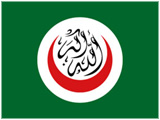 The Deputy Minister stressed Azerbaijan hosted such event for the first time in the post-Soviet territory adding this was a very significant event for Azerbaijan, APA reports.
"This event is of great importance in terms of recognizing Azerbaijan. 80 journalists covered the session. It brought together a total of 588 delegates from 52 of 57 member states of the Organization of the Islamic Conference. In addition, six international organizations and representatives of five states attended the session as guests," Sadikhov said.
The Deputy Minister said the member state hosting the session chairs the OIC for a period of one year. Pakistan will take over the chairmanship from Azerbaijan at the 34th session in Islamabad in summer in 2007. He said Azerbaijan transferred $500 thousand to OIC budget as the chairing country.
"In the history of the Organization of the Islamic Conference, only Saudi Arabia transferred higher sum during its chairmanship. It paid $1 billion that time. In the latest session, our offer on Baku hosting a conference on tolerance for the media in 2007 was accepted.
Azerbaijan's one more offer- establishing the Conference of the Heads of Law-Enforcement Agencies of the OIC member states was also welcomed by the session," the Foreign ministry official said.