Azerbaijan International Bank (AIB) plans to open its offices in Dubai, Turkey, Ukraine and Luxemburg in near future.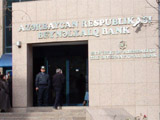 AIB has representations in Germany and the UK at present, APA reports.
AIB Office in Baku told APA that 25 regional office of the bank have been opened in Azerbaijan within a year. AIB has 650 POS-machines, 470 cash dispensers including 175 cash dispensers in regions.
AIB is the biggest bank in both Azerbaijan and Southern Caucasus.
As of April 1, 2006, AIB's assets constitute AZN 1.236bn, credit portfolio is AZN 618.5mn, and attracted savings are AZN 214.3mn. State participation share in the bank's authorized capital is 50.2%.