The reason of the delay in the construction of the Turkey section of the Baku-Tbilisi-Ceyhan main export oil pipeline has been announced.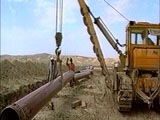 The BTC project director Osman Goksel said the delay of the construction for nearly one year was due to ecological reasons.
The construction of the BTC was suspended as the rare species of partridge in Posof province started the period of insemination. The project director said they had to postpone the construction work for four times within three years due to the insemination period of this rare kind of partridge.
"This kind of grouse is very sensitive, noise during the construction work would have had a negative impact on this bird's getting inseminated. Therefore, we had to construct 1 km away from the planned place. However, ecologists said that was not enough. So, we had to postpone the construction work. We delayed the project at the cost of $1.7 billion in order to provide condition for the partridge to lay eggs. The period of getting inseminated, laying eggs, growing of baby birds takes place from April 1 to July 30, we almost did not work during this period. Of course, this delay caused a lot of material damage to us but we are pleased for paying our debt to nature," Osman Goksel underlined.
This endangered species is 10 thousand in number. Ecologists say the construction work in Posof, the only living place of this rare kind of partridge, might lead to dying out of this species.