Annual general meeting of Russian LUKoil OJSC took place in Moscow today.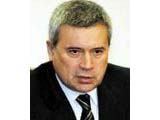 Report on company activity in 2005 and accounting report were heard at the meeting.
The company partners will be paid per stock 33 ruble for 2005 and that dividend figure is 6 ruble more than 2004's.
APA reports that the partners also elected members of Directors' Council, company president, inspection commission members, independent auditor company etc. for 5 years.
Vahid Alekperov was elected the president for 5 years. He was also elected as member of Directors' Council. The company's independent auditor structure is KPMG.
It was concluded at the meeting that market price of company's shares increased in this period and rate of shares rose 95.7%.
In comparison with 2004, Company's net profit rose $51.7% to 6.443bn, yield of capital investment rose from 19.3% to 13.3%, volume of paid taxes rose from 78.2% to $18.7bn.
LUKoil extracted 90.16mn ton oil and 7.57bn cubic meter gas in 2005.