Azerbaijan won't reduce import tariffs and will keep the tariff in the level of 15% in connection with membership to World Trade Organization.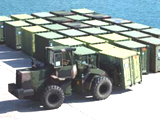 State Customs Committee officer Mirgasim Vahabov told journalists that according to results of 5 months, goods exempted from duties comprise 60% of the total goods and these goods include goods for oil consortiums and other exemptions.
"We try to reduce the volume of exemptions. Analysis show that totally exemptions constituted 72-73% while the indicator fall down to 60% in 5 months of this year. We try to abolish unnecessary and unimportant exemptions."
He thinks that according to results of January-May, 2006, positive balance is observed Azerbaijan's trade turnover and this balance will be maintained by this year's end.
He thinks that foreign trade turnover is forecasted to be $4.2bn this year.
He also stated that list of goods exempted from VAT will not be changed, APA reports.