The government initiated the Samsun-Ceyhan pipeline project, transferring Caspian and Russian oil from Samsun to Ceyhan, to protect Turkey's straits from the dangerous oil tanker traffic that threatens Istanbul.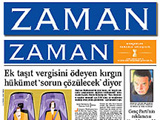 An official from the Turkish Foreign Ministry said Ankara is very determined to put this project into practice.
"No matter whether Russia agrees or not, the Samsun-Ceyhan pipeline project will be implemented. It was called a 'dream' when the Baku-Tblisi-Ceyhan (BTC) project started in the 1990s, but now Ceyhan will be an energy supermarket with an annual capacity of 160 million tones," he asserted.
Russia, which does not welcome the Samsun-Ceyhan project, looks instead to a Burgaz-Dedeagac alternative.
Moscow negotiated the issue with Ankara a few times and noted that they would choose the most economic alternative.
Nevertheless, Turkish President Sezer recently approved the decision which commissions the Calik Group for the construction of the pipeline.
According to foreign ministry sources, who discussed Turkey's energy policy and the BTC pipeline to be opened on July 13, the BTC will strengthen Turkey's geopolitical power and decrease the number of ships passing the straits by at least 350-400.
The Samsun-Ceyhan pipeline, which will turn Ceyhan into "an energy supermarket", is of utmost importance for the safety of the Bosphorus as well.
The ships currently passing from Istanbul and Canakkale Straits carry 120 million barrels of crude oil annually.
This figure is expected to exceed 250 million barrels in the next 10 years.
Tanker traffic in the straits will be reduced by 50 percent when the Samsun-Ceyhan Crude Oil Pipeline project is put into practice.
Diplomats said that Russian, Egyptian and Iraqi natural gas will be added to the BTC and Samsun-Ceyhan pipelines within a decade, thus showing the importance energy companies put on the construction of an oil refinery and liquefied natural gas (LNG) terminal in Ceyhan.
The Calik Group, reportedly in close contact with Italians for the construction of Samsun-Ceyhan pipeline, has begun to search for financial sources in Japan to finance the project.
Calik Energy, which undertook the $1.5 billion project, is predicted to be included in the report about the finance of the project to the Energy Ministry.
Meanwhile, preparations continue for the BTC opening ceremony in which Azerbaijani President Ilham Aliyev and Georgian President Mikhail Saakashvili will participate along with six presidents, nine prime ministers and 23 energy and foreign ministers.
The ceremony committee will bring a special air-conditioned tent from the United Kingdom since high temperatures are expected.
The ceremony is predicted to cost upwards of $3.5 million.
/www.zaman.com/