Turkish Foreign Minister Abdullah Gul had consultations on Monday with Azerbaijani President Ilham Aliyev in Baku to discuss Armenian participation in the Kars-Akhalkalaki-Tbilisi-Baku railway project.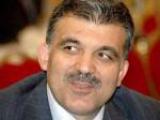 No statement was made to the press following the 40-minute meeting between G?l and Aliyev, but the Anatolia news agency said the two had discussed recent developments in the railway project, which is planned to run from Turkey to Azerbaijan via Georgia.
The foreign minister also said during the meeting that the transportation ministers of Azerbaijan, Turkey and Georgia should exert efforts to overcome existing problems concerning the railway project, according to the Anatolia.
Georgian officials reacted with caution to the reported Turkish and Azeri readiness to include Armenia in the project, with one official in Ankara saying that there would be no need to construct the railway at all if Armenia is included, since there is already a direct railway between Turkey and Armenia that is not used because of political disputes between Turkey and Armenia.
Gul reportedly said Georgia had "serious hesitations" about the project and suggested that Turkey could help eliminate its concerns. "Armenia can also join these projects if it wants," Gul was quoted as saying.
The minister also said private companies in Kazakhstan were also displaying an interest in the railway project.
The Azerbaijani leader reportedly gave a positive response to Ankara's proposal of Armenian participation in the project. He also said efforts should be started to implement the project without loans from the outside.
The Kars-Akhalkalaki-Tbilisi-Baku railway project aims to set up a direct rail link between Turkey and Georgia, and between Turkey and Azerbaijan via Georgia. Turkey, Azerbaijan and Georgia signed a memorandum of understanding on Dec. 28, 2004 to put the project into force. The parties then established a working group. In September 2005, Turkish, Azerbaijani and Georgian ministers gathered in Istanbul to discuss recent developments concerning the Kars-Akhalkalaki-Tbilisi-Baku railway project to devise concrete steps to actually carry out the project.
/www.turkishdailynews.com.tr/