The Azerbaijan International Mining Operations Company will end the prospecting of the gold deposits in Gadabay region by the end of August.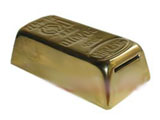 The company head manager for operations Gerald Fillips said all necessary facilities for building of a gold plant in Azerbaijan will be brought from Australia in the end of August. The first gold production will be launched in Azerbaijan from early next year.
Mr.Fillips also said prime cost of gold production will be cheap as the Gadabay and Gosha gold-mine are operated in open way.
"We have cheap labor force in Azerbaijan. We estimate over $155 for one ounce of gold. It is estimated to get 2-2.5 gr. of gold from 1 ton of gold ore in Gadabay and Gosha mine and 5 gr. in some parts. Whereas, most states get 1 gr. of gold from 1 ton of gold ore and its income works out at $17," he said.
Considering the Gadabay and Gosha mine as promising, Fillips said the company will get net income of $15 if 1 ton of gold gives 1gr. of gold, $25 of it gives 2.5 gr. and $45 if it gives 5 gr. of gold, APA reports.