The Azerbaijan International Mining Operations Company will sue several foreign companies for exploiting gold deposits in Azerbaijan's occupied territories. It will also sue Armenia for authorizing the exploitation.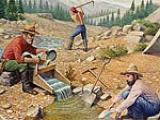 The company's lawyers are preparing documents for that, the company president Rza Vaziri told journalists, APA reports.
"The Ecology and Natural Resources Ministry's allegations that we do not protect our rights regarding this matter are groundless. This is not economical but political issue. How can we possibly be aware of the processes ongoing there?" Mr.Vaziri underlined.
He also said it was proved from the photos taken by satellite that the gold deposits in the occupied Azerbaijani territories are being prospected by Armenians.