A high debit 73rd well in Guneshli reservoir platform 19 within the sector of Azerbaijan in the Caspian Sea was given to 28 May Oil and Gas Operation Unit (OGPU) of State Oil Company of Azerbaijan (SOCAR).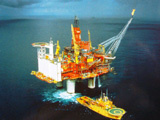 SOCAR Press Service has told APA that the well produces daily 220 tons oil in 2960 meters. There are several more horizons of a high debit on the crossbar that will be operated in the future.
Drilling work was done by Bayil Limani (Port Bayil) Sea Exploration Unit. Farhad Mammadov, a Unit Director, says 6 wells in Guneshli are expected to be operated during this year. 4 of them were already submitted to the customer. The rest will be drilled up by late year.
Platform 19 combining 8 wells was started the operation in February, 2001. 1700 tons oil daily is obtained in 8 wells.