A loan agreement in the framework of co-financing program between Joint-Stock Bank (JSB) Bank Respublika, Azerbaijan, and The European Bank for Reconstruction and Development (EBRD) may be signed in the next month.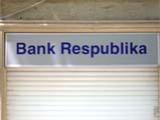 Total capacity of the co-financing program is USD6 million, $3 million of which will be granted from the Azerbaijani bank. Another half of the amount will be provided by EBRD.
The date of signing this long-term agreement will be known after it is proved in EBRD Directorate. The project money will be financed for business structures projects in the country, APA reports.