Georgia offered Azerbaijan to pay the debt of electricity this summer.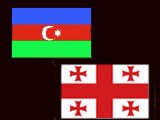 However, the Azerbaijani party intends to have the debt paid in winter, when electricity consumption increases, Trend was told by Salekh Mamedov, Head Engineer of JS AzerEnergy.
According to him, the Georgian party has already covered the debt of 17 m kilowatts of electricity out of total 32 m, including 4,138 m kilowatts consumed from January 22 to January 31 2006.
/www.primenewsonline.com/