The first oil to flow through the Baku-Tbilisi-Ceyhan (BTC) pipeline linking the Caspian and the Mediterranean seas will be loaded on to a tanker in the next few days.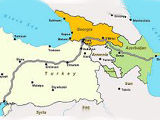 When it comes fully on stream in 2009, at 1m barrels a day, it will supply about 1 per cent of global production. This is well short of the dreams of those who hoped a decade ago that Azerbaijan might become a new Saudi Arabia. But it will constitute a significant new source of supply.
Four years after construction began, the pipeline will supply 300,000-400,000 b/d from Azerbaijan to the global energy markets within the next few months.
"I am proud. . . . This is a historic occasion. . . . It opens a completely new road for Caspian hydrocarbons to reach world markets," Ilham Aliyev, the Azeri president, told the FT last week.
The 1,770km pipeline from Baku, the Azeri capital, via Tbilisi in Georgia, to the Turkish port of Ceyhan has the strategic advantage of providing an alternative route to the existing Russian transit network for Caspian supplies to reach world markets.
By circumventing thetraffic-choked Bosphorus straits, the project also avoids the potential risk of a catastrophic oil spill.
David Woodward, the head of BP in Baku, says the pipeline, buried a metre below ground to protect against possible attacks, crosses 1,500 water courses, 15 fault zones and 30,000 plots of land.
BP is close to completing a second Caspian energy link - the South Caucasus Pipeline, to take gas from the Azeri offshore field of Shah Deniz via Georgia to the Turkish city of Erzurum, where it connects to Turkish pipelines.
Initially, it will supply Azerbaijan, Georgia and Turkey. There are plans to bring Caspian gas to Europe along this route too, including the ambitious 3,300km onshore Nabucco project, linking northern Iran and Europe via the Caspian and Turkey.
Mr Woodward says that rather than bringing together multiple partners in one huge scheme, it is more likely that a Caspian-Europe gas link would be developed by joining, expanding and extending existing networks.
Turkey and Greece are building a 300km connector with a capacity of 3.5bn cubic metres a year, which is due for completion this year and could be expanded to 11.5bn cu m.
The financial, political and technical challenges in bringing Caspian region gas to Europe are formidable. But as Mr Aliyev points out: "This is the only new source of potential gas supply to the European market because all other sources have been in operation for many years."
By Stefan Wagstyl
/www.ft.com/