An automobile factory built by Iran Hodro, Iran in Shamakhi, Azerbaijan will be officially opened June 3.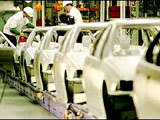 Starting its construction 4 months ago, the factory will make Samand automobiles. Firstly, the inauguration was expected May 31. Ali Rza Tahmasib, Iranian Industry and Mine Industry Minister, is expected to visit Azerbaijan.
The factory will make trucks, which parts will be brought from Iran to be assembled there in Shamakhi. Total value of the project, which is financed by Elit Co., is $10 million. 6 thousand Samand cars are expected to be put up for sale in the first year of the company.
The cars will also be exported to CIS countries, namely to Central Asian republics, Georgia and Ukraine. The company officials have faith in success of cars in Azerbaijan and CIS countries, APA reports.