The Commission to examine Limited Liability Company Barmek-Azerbaijan Energy Network compliance with its contract was formed at Economic Development Ministry.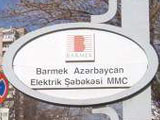 APA reports that working groups have already been established in the content of the Commission.
There are representatives from Economic Development, Justice, Industry and Energetics, Finance, Labor and Social Protection, Ecology and Natural Resources ministries, as well as from State Social Protection Fund, State Committee for Public Property Management and OJSC Azerenergy.
The Commission, including Barmek's representatives as well, will examine the company's compliance with the contract in last 5 years.