Azerbaijan plans to increase its natural gas exports to Western Europe, the country's president said Tuesday, in comments aimed at easing concern over the security of the region's energy supply and its over-reliance on Russia.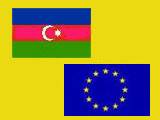 "In Europe and the world, issues of energy security now become more important," President Ilham Aliev said during a NATO meeting in Paris. "Azerbaijan as a friend and as a partner is ready to contribute."
According to the Associated Press news agency, European energy concerns are running high after Russia briefly cut natural gas supplies to much of the continent earlier this year, in response to a pricing dispute with neighboring Ukraine.
The crisis handed an opportunity to Azerbaijan and other alternative suppliers as policy-makers turned their attention to the need to source more energy elsewhere.
Aliev said Azerbaijan was ready to become a "very substantial" player on European and world energy markets. He cited the completion of a new oil pipeline linking Azerbaijan's Caspian coast to Turkey and the imminent opening of a natural gas pipeline serving Turkey and Georgia - which blamed Russian "sabotage" for a series of blasts that temporarily cut natural gas supplies in January.
"The energy projects of the Caspian (are becoming) more and more important for global energy security issues," Aliev said.
But any new projects to bring energy directly to western Europe's doorstep would take years to bring to fruition, analysts say.
"We're not talking about tomorrow," said Robert Mabro of the Oxford Institute of Energy Studies. "We're talking about things which may happen in five to ten years."
Aliev has been seeking to boost his international profile in recent weeks and last month met U.S. President George W. Bush in Washington, amid concerns over reported crackdowns on political dissenters back home. The elections that brought Aliev to power in 2003 were criticized by independent observers.
/www.kyivpost.com/