Though Azerbaijani oil has reached Ceyhan and has been pumped into tanks, the shipping into tankers has not yet started for the reason that one of the tanks is empty in Ceyhan.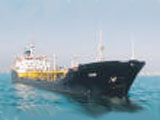 According to Turkish media, Michael Thousand, BTC Co. Senior Manager, has said that there are 7 tanks of 1 million barrels capacity each and Baku oil can be shipped after one of those tanks is full, APA informs.
"A tanker of 700 thousand barrel capacity is ready since Saturday. All problems will be solved this week."
Mr. Thousand has also stated that work in Turkish part of the pipeline is not yet complete. It should be over by late year. Then oil delivery capacity will reach about 300-500 thousand barrel a day which will further increase in next 2-3 years. Daily oil delivery through Baku-Ceyhan will make 1 million barrels in 2008.