Israeli officials will participate in energy conferences in China and Azerbaijan in the coming weeks, the Ministry of National Infrastructures said Monday.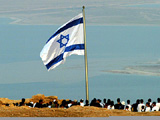 National Infrastructures Minister Benjamin Ben-Eliezer, Ministry Director General Eli Ronen, a team from the ministry and Israeli businessmen from the energy sector will travel to Baku, Azerbaijan, for the Caspian Oil & Gas Exhibition on June 6, according to a ministry statement.
At the conference, Ben-Eliezer will meet with senior Azeri government officials, including the president, the foreign minister and the energy minister, the statement said.
According to UPI, Ben-Eliezer will also meet with foreign energy companies there, according to the statement. Israel has been courting foreign natural gas companies like BG Group and Gazprom in earnest lately, in an effort to open the country's energy market to more competition.