President of Azerbaijan Ilham Aliyev met May 29 with businessmen representing MEDEF (Movement of the French Enterprises) companies in Paris.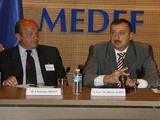 Opening the meeting Christian Mons, director general of "Panhart General Depans" company gave general information about Azerbaijan and stressed that the economy of Azerbaijan is rapidly developing. He noted that French companies are very active in Azerbaijan and business environment in the country is increasingly improving.
Reminding of his meeting held at the MEDEF during his official visit to France two years ago, President Ilham Aliyev described the fact he visited this country several times as an indicator of development of the Azerbaijan-France relations. President also gave an insight into today's situation of Azerbaijani economy, non-oil sector development, ongoing economic reforms, involvement of Azerbaijan in international and regional projects and favorable environment for investments in the country.
Then, President answered businessmen's questions, calling them for active cooperation with Azerbaijan, AzerTAg informs.
Afterwards, the President was interviewed by AFP reporter.