Milli Majlis has confirmed changes and amendments to Law on 2006 State Budget and Social Protection Fund Budget for 2006 in the session yesterday.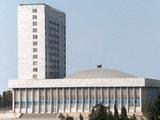 Talking about proposed changes, Samir Sharifov, The Finance Minister, has stated that GDP growth is expected to rise from 30% to 39,5% and budget revenues are expected to increase by about 12%.
The Minister has said that changes to state budget is in connection with work intensification to grow military power of the country, the establishment of Youth and Sport, Emergency, Defense Industry and Culture ministries and other institutions and increase in some oil products. State budget expenditures for 2006 will probably reach AZN4,025 billion increasing by AZN430,5 million, which is 88% more than in 2005 and 12% more than of affirmed for 2006.
"Expenditure rate in GDP will compose 23,3% going 5,3 points upper than in 2005. 271,3 million manats (63%) of the whole sum will be forwarded to state investment expenditures while 159,2 million manats (17%) will be expensed for other necessary expenditures. Defense expenditures will increase 54,8 million manats (by 9,3%)."
59,2 million manats (13,8%) of budget growth will be paid to keep social spheres such as science, education, healthcare, culture and media. This amount of money will be paid for strengthening the social protection of health workers, salary increases, minimum amount of salary increase expected, teachers who go to work in villages by assignment, buying medicine, covering the price difference of oil granted to refugees and IDPs, people with disabilities and dismissed employees.
Mr. Sharifov has pointed that the amount of money to cover oil price differences and to finance energy supply and other events is AZN12,1 million (2,8%).
The amount of money for foreign debts and membership to international organizations is expected to sum AZN8,3 million (1,9%). State capital investment will take AZN882,3 million (21,9%) part in the budget being increased by AZN271,3 million. The Government will allocate AZN38,8 million expenses for Emergency Ministry's material and technical basis building, civil defensive measures, rock mining and construction safety provision expenditures and purchasing new fire helicopters and fire-engines and for other purposes.
Besides, AZN17,1 million will be expensed for strengthening state boundaries and AZN52,1 million for road infrastructure rehabilitation. AZN22 million is expected for reconstruction of airports in Lenkoran and Zagatala and AZN6 million for construction of third line in the northern part of subway system.AZN18,6 million will be allocated for natural gas system rehabilitation, AZN23,3 million for melioration and irrigation expenditures and AZN19,3 million for reconstruction of objects with social destination.

Sharifov has also stated that the President's Reserve Fund will be expensed 3,5% or AZN15 million of budget growth. Off-budget organizations will be awarded AZN11,5 million.
"AZN66,6 million (15,5%) of budget expenses will be granted to labor fund, AZN10,5 million (2,5%) to pay for transport services, AZN4,6 million (1,1%) to public utilities, AZN28,5 million (6,6%) for inventories and equipments, AZN6,8 million (1,6%) for main debts and interests pay-backs, AZN274,8 million (63,3%) for capital expenditures and AZN38,3 million (8,9%) for other expenditures basing on economically specified budget expenditures."
As to budget revenues, it is expected that Taxes Ministry will transfer AZN395 million into state budget, State Customs Committee will AZN28 million and AZN11,5 million will enter state budget from state financed organizations' off-budget transfers.

Sharifov has added that state budget revenues for 2006 will compose AZN3,837 billion increasing by AZN430,5 million. It is 12% more than a prognosis for current year.
Revenues will compose 22,2% of GDP, which is 4 points more than of an indicator for the previous year. After a growth to the budget, Taxes Ministry will transfer AZN2,62 billion and State Customs Committee will pay AZN505,4 million to state budget.
As to final budget, the Ministry has stated that revenues in 2006 final budget will make AZN4,846 billion increasing by AZN591,2 million or 13,9% while final expenditures will make AZN5,203 increasing by AZN617 million or 13,5%.
Final budget is composed of AZN430,5 million state budget revenues, AZN46,2 million State Oil Fund revenues, AZN11,4 million State Social Protection Fund revenues and AZN103,1 million from indirect subventions. Final budget will carry AZN356,2 million deficit or 2,1% of GDP.
Salim Muslumov, State Social Protection Fund Chairman, has said in his speech that all stipends are increased in the state budget according to the President's decree on increasing base amount of stipends dated March 30, 2006.

"The need for financing work stipends in December, 2005 was AZN35,6 million whereas it was AZN36,8 million in January, AZN44,3 million in April which is 24,4% more than last year's figure in December." Mr. Muslumov has said that State Social Protection Fund's revenues are expected to be AZN589,5 million which is AZN21,2 million more than affirmed prognosis.
"The main reason of the growth is the increase in salaries of employees working for state budget financed organizations and in the number of insurers registered in private registration system."
Muslumov has also said that state budget expenditures for 2006 are AZN589,5 million which are AZN21,2 million more than affirmed expenditures prognosis. 85,4% or AZN18,1 million of increase in expenditures are popular payments.

The parliamentarians who made speech in the discussions have made proposals relating increase in expenditures for education and healthcare as well as equalizing minimum level of life to minimum level of salaries. The law was accepted after discussions. Besides, the draft of regulations on Justice Service was confirmed too, APA reports.