A delegation of 20 Azeri business persons are to attend the 23rd International Textile Machinery Exhibition in Istanbul from May 31 to June 4, informs National Confederation of Entrepreneurs /Employers/ Organizations of Azerbaijan.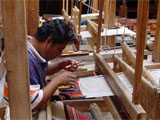 Around 150,000 businessmen are expected to attend this prestigious event that will witness visitors from Europe and Asia.
Exhibitors are expected to arrange one to one meetings, make presentations and deliver talks on innovations in textile industry.
/www.fibre2fashion.com/