The Ministry of Industry and Energetics (MIE) has signed technical assistance agreement with Asian Development Bank (ADB) with the aim of discovering energy production potential and finding new ways.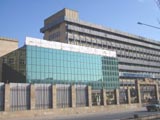 According to APA, the agreement was signed by Natig Aliyev, the Minister of Industry and Energetics, on Azerbaijani side and by Phillip Chang, the Bank's economist to Azerbaijan, on ADB side. Supported by Finnish Government, this project agreement is aimed at making work plan providing re-generation and at implementation of sub-projects on the most matching regenerated energy types.
Mr. Aliyev has stated in his speech that this project is the first alternative energy project not only in Azerbaijan, but in CIS area.

"Oil and gas energy in the world may be exhausted once. So we need to bring alternative energy resources into action as time passes. The world countries get 15% of their used energies from alternative energy resources. It is 1% in Azerbaijan while we have 3200 sunny hours and we must make a good use of this. Azerbaijani Government already has State Programme on Alternative Energy," he said.
"Alternative energy resources have stronger importance for Azerbaijan that might stimulate production, increase incomes and reduce poverty," said Mr. Chang, adding that energy supply of less utility causes difficulties in meeting primary needs to energy in some regions of the country. Moreover, it also prevents economic development and employment opportunities.
The Finnish Government will cover $200 thousand of total project costs while ADB will finance $500 thousand. Azerbaijan will invest $200 thousand of remaining costs. The project Head Committee will include representatives from Industry and Energetics, Finance, Economic Development and Ecology and Natural Resources ministries and National Academy of Sciences of Azerbaijan. The project also includes monitorings, workshops in Azerbaijan and abroad and reports. It is implemented by local and foreign experts.