Advancing only 2.5 meters per hour, the crude oil in the pipeline is expected to arrive in Ceyhan on May 27.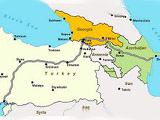 A mere 40 kilometers remain for what was once a dream to become a reality: The Baku-Tblisi-Ceyhan (BTC) oil pipeline will disgorge its first shipment of oil on May 27, 2006, according to the Anatolia news agency.
As the July grand opening of the BTC -- which will transport Azeri oil to Turkey -- nears, the oil is only several days away from reaching its terminus at the Turkish port of Ceyhan.
Since its viscosity is quite high, the crude oil in the pipeline advances only 2.5 meters per hour. Expected to arrive in Ceyhan on May 27, the oil is currently 40 kilometers from this southern port city. This weekend will witness the first loading of oil tankers as part of technical preparations for oil transportation from Ceyhan.
What is already projected as a historic grand opening for the BTC is planned to take place on July 13, and the preparations are under way in proper. The Prime Ministry, the Foreign Ministry and the Security General Directorate are organizing joint meetings to coordinate their activities during the opening ceremonies. The presidents of Azerbaijan and Georgia will attend the grand opening, to which Turkey attaches great importance, as well as the presidents, prime ministers and energy ministers of 16 other countries. Officials indicate that "this will be the greatest opening Turkey has ever presided over." The event will be followed by a dinner that will be held either at the Ciragan or Dolmabahce palaces in Istanbul.