The Baku-Tbilisi-Ceyhan oil pipeline will see oil flow in June, Turkey's Anatolia Adana news agency reported Sunday.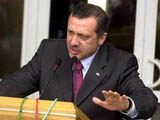 Speaking at the Baku-Tbilisi-Ceyhan Friendship Initiative in Adana Saturday, Turkish Prime Minister Recep Tayyip Erdogan said: "Baku-Tbilisi-Ceyhan oil pipeline will become operational in June. Not only Turkey, Azerbaijan and Georgia, but the whole world attached importance to the project."
"Earlier, the United Nations declared the first decade of the 21st century as the International Decade for a Culture of Peace and Non-Violence. The Baku-Tbilisi-Ceyhan oil pipeline became its symbol."
According to United Press International, Erdogan said that the pipeline would operate as intended, despite its attraction as a terrorist target and symbol of peace.
"There are acts of terrorism all around the world. We cannot give up such an important project because of terrorism. We will start pumping oil from Ceyhan to the whole world in June," he said.