"Inspections held in "Barmek" has also influenced the image of the company negatively," and left "Barmek" in a loss with millions of dollars, the Company President Huseyn Arabul has told.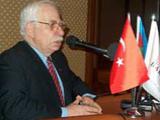 As APA reports, Huseyn Arabul noted creation of problems in work process: "We can not prepare for winter, new equipments for joining network have not been brought to the country, and our bank accounts have been frozen. What can we do with it? This is not only loss for Barmek but for Azerbaijan."
Huseyn Arabul has less hope for talks held with government: "The talks are too slow. These talks will solve everything. If they say "stay" I will, otherwise I will leave."