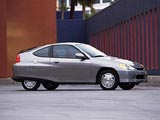 31 May
Dear readers, please be informed that information below provided by APA news agancy has no any relations to Aztol Motors Company.
Company representatives contacted Today.Az and declared, that they did'n provide any information regarding import from Honda.
29 April

The Aztol Motors Company, official distributor of the Honda brand of Japan and Volvo brand of Sweden in Azerbaijan, intends to start importation of updated model of Hodna Civic this July.

According to APA, as a result of modernization of the model, this car was transformed from the "classic" type to the "sport" type. The capacity of the engine of the model was reduced, but engine power was increased by some 6% up to 1800SS. The Company initially intends to bring about 20 cars to Azerbaijan.
Subsequently, it is planned to bring 20-25 cars to the country every month. The price of the Honda Civic is supposed to be $22-24 thousand in the domestic market.

Aztol Motors Company has been operating since 1998 and is engaged in importation of cars, motorcycles, spare parts, generators and provision of technical services in Azerbaijan.