The Azerbaijani President, Ilham Aliyev presented report at the 6th Business and Investment Meeting of the US-Azerbaijan Chamber of Commerce (USACC) on Thursday, April 27, at the Four Seasons Hotel in Washington, DC.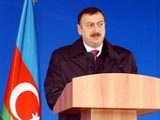 The Head of state informed participants about implementation of energy projects in Azerbaijan, presenting complete information about social and political life in the country. Developing economy in Azerbaijan gave an impetus to the growth of regional projects, integration in the South Caucasus and euro-Atlantic area, Trend reports.
Aliyev emphasized the role of the international society in the implementation of regional projects and providing transparency in their development. Special attention is paid to oil and non-oil sectors, President said. More than $1bln has been allocated by the State budget for these purposes also giving strong impetus to other areas of economy.
The Head of state provided information about the investment climate in the country, which allows local and foreign investors to invest in the economy development.
President said that oil revenues were spend to provide social needs of the people and creatning new jobs.
Aliyev will meet with his American counterpart George Bush on April 28.